UPDATED NEWS
December 4, 2021
**what's new? Sunday bulletin**
Here's the regular weekend and daily schedule of 'live' Masses
Saturday 4:00 p.m. indoors
Sunday: 7:30, 9:30 and 11:30 a.m. and 5:00 p.m. indoors
Sunday: 8:00 a.m. outdoors in the parking lot on Stevens Dr. (stay in your car and tune your radio to FM 90.7)
Weekdays: 6:30 and 8:00 a.m. indoors.
We'd love to see you at Mass! If you'd like your own copy of the Breaking Bread missalette to follow readings and music, they are available for purchase from Oregon Catholic Press (www.ocp.org) in hard copy and in an app.
Livestreams are available for weekday and Sunday Masses.
Weekday Mass: Monday through Friday at 8:00 a.m.
Sunday Mass: recorded during the Saturday Vigil at 5:00 p.m.



Watch these broadcasts here: Christ the King Adult Religious Education channel!
Confessions! We offer reconciliation on Saturdays, from 2:30 to 4:00 p.m. in our school cafeteria. To keep everyone safe, here's how it works:
Park in one of 10 numbered parking spots in the lower parking lot on Stevens Drive. If the spots are full, wait until one is available.

Wait in your car for an usher to indicate your turn. If you have more than one person in your vehicle, one occupant at a time will proceed to the cafeteria and the others will wait in the car. No more than 8 per car.

Wear your mask at all times once you exit your car.

Maintain a distance of 6 feet from others.

Sign in before you enter the cafeteria; registration is for your own protection/contact tracing and the list will be shredded after 14 days.

Be mindful of the time spent in confession so all can be heard.

Use the hand sanitizer we'll have available.
You can always call the parish office (946-1675) and make an appointment for confession.
Our Sunday bulletin is available in several locations on our website, including here, as well as www.parishesonline.com.
Sharing Tree: Our annual program to help those less fortunate during the holidays is underway. As we did last year, we will distribute gift cards. You'll find lots of information in the bulletin! You'll also find a link on the Online Giving site (see icon above) to donate. December 5 is the last day we can accept donations, so that families have time to use the gift cards before Christmas.
COVID-19 protocols: Please wear a mask while you are inside the church, maintain a safe distance from others not in your household, and stay home if you are sick! We urge you to get vaccinated if you have not already done so.
Find us on Facebook! Our parish page is Christ the King Catholic Church Richland WA. Other parish pages you might see include Christ the King Catholic Church Youth Ministry; Christ the King Adult Religious Education; Christ the King Parish RCIA; and CK Richland. Different emphases, but we're doing our best to keep us informed and connected.
Food Bank Donations Needed: If you can, please continue to bring non-perishable food and household and personal supplies like toilet paper, laundry and cleaning items, soap, shampoo, and toothpaste and leave them inside the church building, by the office door.
Please visit FORMED! This resource offers excellent content. To sign up, click the FORMED icon below.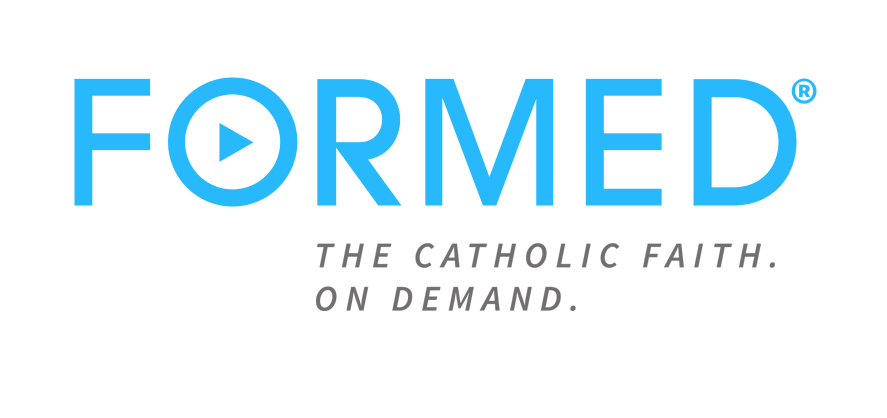 Visit www.ckadultre.com or www.facebook.com/CKAdultRE for information about upcoming Adult Religious Education classes. Contact Meggin Sanner at 541-571-8402 or ckadultre@gmail.com for more information.
Spiritual Communion: the priests lead us though this prayer during the livestream Masses:
My Jesus,
I believe that You
are present in the Most Holy Sacrament.
I love You above all things,
and I desire to receive You into my soul.
Since I cannot at this moment
receive You sacramentally,
Come at least spiritually into my heart. I embrace You as if You were already there and unite myself wholly to You. Never permit me to be separated from You.
Amen.