Adult - Rite of Christian Initiation of Adults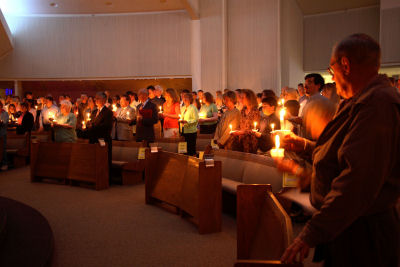 The Rite of Christian Initiation of Adults (RCIA) is usually a year-long process of instruction, formation, and creation of a relationship with God and membership in the Roman Catholic Church. It is designed for adults, unbaptized, in another Christian denomination, or baptized Catholic but never completed the other sacraments of full communion in the church, and culminates in receiving the Sacraments of Baptism (if needed), First Communion, and Confirmation at the Easter Vigil Mass (formation continues after Easter as well). If you are interested in joining the Roman Catholic Church, please contact Deacon Ross Ronish. We'd love to have you join us!
RCIA meets on Thursday evenings, beginning in September, from 6:30-8:30 p.m.
1. Information about RCIA
A New Look at the RCIA; What is the RCIA?
2. Information about you
Attendee Application; Parish Information Form; Profession of Faith
3. Information about your sponsor
Godparents and Sponsors; Godparent/Sponsor Information Form
4. Schedule
2023-2024 Schedule; 2023-2024 Study Guide
5. Handouts
Aspects of prayer; Attributes of God
Battle of prayer; Beatitudes; Blessed Trinity;
Can the Bible be taken literally?; Canon law; Chastity and modesty; Choosing and using a Bible; Christian meaning of freedom; Christian meaning of suffering; Christian meditation; Church is apostolic; Communion of saints; Confession; Continual conversion; Creed
Dignity and vocation of women; Divine revelation
Examination of conscience
Five doctrines on Mary; Four last things
God the Father; God's law; God's plan of salvation; Grace and conversion
Heights of prayer; History of the church; History of the Mass; Holy Orders; Holy Rosary; Holy Spirit; How to choose a Confirmation saint
Incarnation; Infallibility; Introduction to Prayer
Jesus, our Exemplar in prayer; Jesus, the Way, the Truth, and the Life; Liturgical year; Liturgy of the Hours; Lord's Prayer
Made in His image; Magisterium; Male and female He made them; Marriage, sexuality, and contraception; Matrimony; Mother of God and our mother
Natural law
Original sin
Parts of the Mass; People of God; Priesthood of the faithful; Purgatory
Reconciliation
Sacramentals; Sacred Scripture; Second coming of Christ; Seven deadly sins; Social teaching of the Church; Stations of the Cross; Structure of the Bible
The last things; Titles, terms, and ministries; True God and True Man; Types of prayer
Viaticum; Virtue of Charity; Virtue of Faith; Virtue of Hope
What is a sacramental marriage?

6. Additional resources
Word on Fire; New American Bible Vatican Archive; New American Bible USCCB; Catechism of the Catholic Church; Lectionary; Second Vatican Council documents
7. Materials posted by speakers
Old Testament slide show part 1; Old Testament slide show part 2; Natural Law and Conscience; God notes; God and the four Genesis stories; Fast and Feast in Lent; Liturgical year handout; Forming Consciences