Sausage Fest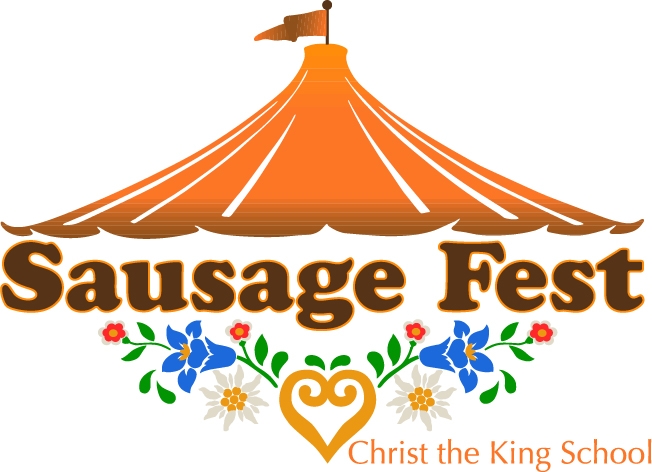 September 19-20, 2014
Christ the King School
Sausage Fest 2014...Community, Family, Fun 38 years and counting

Sausage Fest is THE PRIMARY fundraising event for Christ the King School and has been an annual community event for 38 years. With 25,000-30,000 people attending, it is also the Tri-Cities third largest event. In fact, Sausage Fest provides our school with 10% of its operating budget. It builds community, helps keep our school affordable and generates a lot of family fun for the best entertainment value around.
Admission to Sausage Fest is FREE and includes 25 games for kids of all ages with great prizes, 12 food booths with over 30 different foods, indoor and outdoor Biergartens, with live entertainment, Arts & Crafts, Bingo, Granny's Attic, a Farmer's Market, plus middle and high school dances. Food and game prices have remained low for many years to provide an inexpensive, enjoyable time for families in our community.
On the main outdoor stage, Sausage Fest also provides the largest showcase for our local performing talent with a wide variety of entertainment that can be enjoyed by Fest-goers of all ages throughout the weekend. The festivities always run on the third full weekend of September (September 19-20, 2014) beginning on Friday from 5:00PM to midnight and continuing on Saturday from 11:00AM to midnight.
It takes more than 2000 volunteers for a successful Sausage Fest! We are parents, parishioners, students, alumni and friends. When Sausage Fest began in 1977, only a couple dozen volunteers were required to put on the Fest; now Sausage Fest has over 2000 volunteers working before, during and after the event plus another 245 volunteers in leadership positions for the many booths and activities.
Sausage Fest is a proud tradition of Christ the King. But it doesn't happen without your support. We need your commitment to help with powering our booths. Please sign up to work at the Sausage Fest website, www.cksausagefest.org, or just call or email us about working a shift. You will have fun serving the community while helping our school raise funds. Most of all, thank you for being a FAITHFUL supporter of Sausage Fest.
2014 News


The Adult Workers Party will be on

Saturday, October 25, 2014
Christ the King Church Gathering Space
6:00 PM
Join us as we say THANK YOU for volunteering
at Sausage Fest 2014
§ Enjoy APPETIZERS and DRINKS
§ Watch the 2014 Sausage Fest Slideshow!
§ Hear the big winners of the Sausage Fest Raffle drawing!
§ Maybe even win a Door Prize!
Adults Only Please
All of your donations directly benefit Christ the King School. Thank you for your faithful support of Sausage Fest, a Christ the King tradition for 38 years.
Sausage Fest 2014...A Festival of Family Fun

Questions?

Email: cksfchair@yahoo.com
Website: www.cksausagefest.org