Children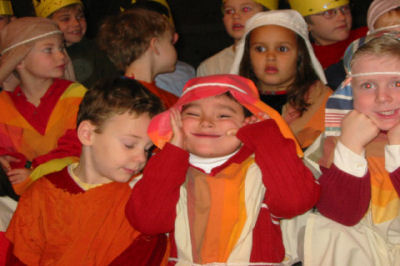 • EARLY CHILDHOOD meets during the 9:30 AM Sunday Mass from late September through late May on the lower level of CK School. We have two classes for each age level from 3 year olds (by August 31st) through 1st grade. Our program emphasizes an awareness that God is our Father and Creator, who knows us and loves us always; that God has called us by name and we belong to Him. It will introduce the children to stories from the Bible and invite them to participate in various forms of worship to honor and praise God. It will increase their awareness that they are members of Christ the King Catholic Church and assist them in becoming familiar with the symbols, signs and prayers of the Church. For more information about the Early Childhood Program, please e-mail or call Dori Luzzo Gilmour at 940-1010. You may also download the calendar for ECRE here. Please read a letter from our ECRE coordinator here.
---
• ELEMENTARY (GRADES 2-5) meets on Wednesdays. Classes begin in late September, from 7:00 PM to 8:00 PM. Grades 2 and 3 meet on the lower level of CK School. Each elementary grade level has its own focus: Second graders learn the Mass and prepare for the Sacraments of Reconciliation and Holy Eucharist. Third graders learn what it means to be a Catholic Christian and who and what makes up the Catholic Church. Fourth graders are taught the meaning of conscience and the Ten Commandments, the corporal and spiritual works of mercy and the Beatitudes. Fifth graders grow in understanding of the Supreme Sacrament of Jesus revealing God to us and that the Church is the Sacrament of Jesus. They also study the seven sacraments of the Church, the liturgical year and the Creed.

A major component of the elementary faith formation is the Prayer Mom Program. You may download further details about this program below.

Prayer Mom Program Letter to Parents
2nd Grade Prayers
3rd Grade Prayers
4th Grade Prayers
5th Grade Prayers

For more information about Elementary Program, please e-mail or call Jean Rieb at 940-1011. You may download the elementary faith formation calendar here. Please read a letter from Jean here.


---
• CHRISTIAN INITIATION OF CHILDREN (CIC) is a sacramental preparation program for older children (grade 4 and up) who have not been baptized, made their first reconciliation, or received their first Holy Communion. The program involves home study with a parent or guardian as well as attendance once a month October through April at CIC class. Our Catholic Faith from Sadlier Publishing is the curriculum used to teach the children a good basic understanding of their faith and their role as Catholic Christians. Students also must regularly attend Wednesday night religious education classes (or attend Christ the King School) simultaneously with the CIC Program. For more details on the program and current dates, click here for a pamphlet. Contact Michelle Portch at 946-1675 or by cell 948-6636 or email her at mportch@ckschool.net if you have more questions.
---
You may download Religious Education registration forms here
Subscribe to the Early Childhood and Elementary School Faith Formation e-newsletter by entering your email address below.
Please download the Flash Alert app available for Apple and Android phones to receive emergency noticed about our programs. Follow the directions provided in this document to download the app.
We appreciate any help that you may be able to contribute to our programs. If you are interested in working with youth, please visit our safe environment page here.